I am very happy to announce that The Minco High School Football Team has been named the Class A Football State Academic Champions!! We are very proud of this team and this great accomplishment. The team will be presented this trophy at 12:30 on Saturday at the Class A state championship game at UCO. Congratulations boys and coaches!! Mr. Sims

Mr. Sims will be going on the Minco Public Schools Facebook Live page at 12:30PM with a big announcement for our school district.
The Minco Bulldogs will be hosting the First National Bank Bulldog Classic Dec 9th - 11th, 2021.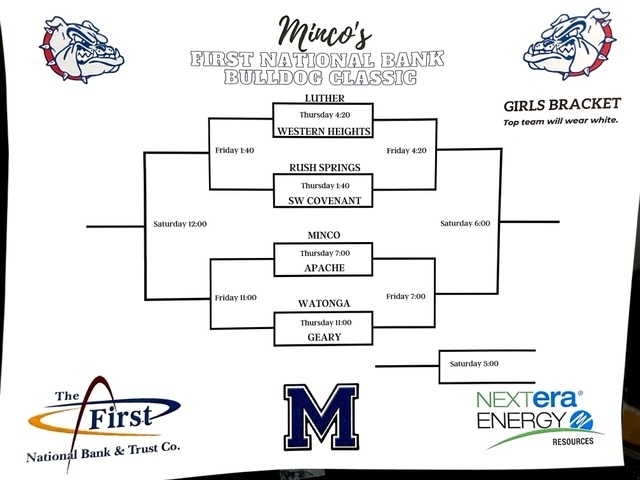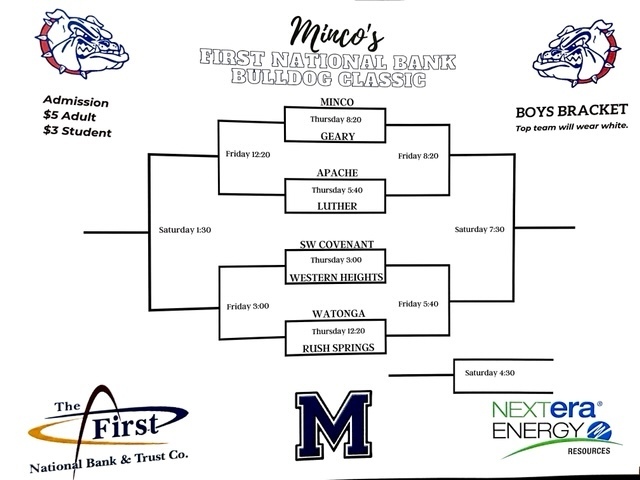 The Minco Middle School and High School Vocal and Band Christmas Concert will be at 7:00PM tonight in the auditorium.
Picture retake day is this Friday, Dec. 3rd beginning after the first bell. All students that did not have their picture taken on the original date will need to have their photo taken for the yearbook as well as those that would like to have retakes. Please have your student let their teacher know when they arrive at school.

The Minco Elementary Christmas Program will be this Thursday, December 2nd at 6:30PM. This is always a great time for our students, families and community. This will be in our high school auditorium at 701 SW 3rd street in Minco.

Thankful!! During this season of Thanksgiving, we are reminded that we are blessed and that we should be thankful for the blessings sent our way. We at Minco Schools are grateful for the good things. We, like everyone else, have been tested, and many have endured challenges and loss in the last year. We also have worked hard to meet the challenges set before us, and our people who work hard for your children and community have stepped up in the last year to meet the needs presented. I am proud and thankful to work with caring, helpful, and kind people. In this age of selfishness, I can tell you that our staff cares for your children. They are in good hands. This is something Minco can be thankful for! As we look to the Christmas season and the new year ahead, this commitment will not change as we work hard for your children. I would like to wish all of you a Happy and Blessed Thanksgiving! May God bless you as we reflect and show thanks for His many blessings. Happy Thanksgiving 2021!! Kevin Sims Superintendent

Mr. Sims will be on Facebook Live on the school Facebook page at 4:30 with an important announcement.

Parents and Grandparents: It is with an abundance of caution that we have decided to postpone Grandparent's Day. We have several students who are ill or under quarantine. Due to this fact, we are going to postpone this great day. We will have Grandparents Day in the spring. I promise you that. We have a duty to protect our community from the spread of viruses such as Covid. While we are disappointed with this decision, it is the best decision. Safety first!! We will announce a new date for Grandparent's day very soon. Thank you, Kevin Sims Superuintendent

This is a reminder that at tomorrow's playoff game at 7PM all veterans and one guest of the veteran may get into the game at no cost. If you cannot purchase tickets online, we will have tickets for $10 at the gate.

Grandparents, We are pleased to announce the return of Grandparent's Day on November 19th, 2021. Due to the Covid pandemic this event was cancelled in 2020. We typically feed near 1,000 people this day, and we fully expect to do the same next Friday. This is such a great day for our students, parents, and grandparents. This year we will be eating in the old gym at the elementary school. Grandparents must check in at the elementary office and we will get their Grandchildren for them. Grandparents may pick up grandchildren in the middle school and take them to lunch early if they also have grandchildren in the elementary. We will run a shuttle to make sure kids from the high school and middle school get to their grandparents if needed. Lunch times in the elementary start at 10:30AM. If you have no grandchildren in the Elementary, we ask you to wait until 11:30 to attend with your grandchildren from the other buildings. Remember ALL grandparents, parents and students must proceed to lunch through the elementary office. If you pick up your grandchildren in middle school or high school and have no grandchildren in elementary , you still have to enter through the elementary office to get to the lunch line. We are very excited to have you back for Grandparent's Day 2021. We look forward to seeing you on November 19th!! Thank you, Kevin Sims Minco Superintendent

This Thursday all Veterans in Minco are invited to the high school auditorium at 8:30AM for doughnuts and coffee followed by the Veteran's Day assembly at 9:00AM in the Minco High School auditorium.

This Friday night at 7:00PM Minco will host Mooreland at 7:00PM in football playoffs. If you are a veteran of the armed forces, you will receive free admission to the game. You will need to purchase your ticket on line at
https://gofan.co/app/school/OSSAA
. You can also load the GO FAN Highschool Ticket APP. The cost to purchase a ticket is $8.35. Thank you
The OSSAA is requiring that all playoff tickets must be pre-purchased online as no tickets will be sold at the gate. Tickets will not be available until schedules have been set. The following link will take you directly to the site to purchase tickets or you may use the QR code on your phone to purchase tickets.
https://gofan.co/app/school/OSSAA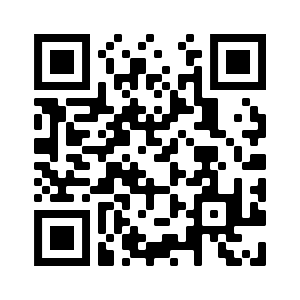 If you are a veteran, either active duty, retired, reserve or national guard, The OSSAA would like to invite you to attend the first round of the football playoffs for free next weekend! That's right, all veterans and one guest will be admitted free of charge on Friday November 12th to all OSSAA first round football games. The OSSAA appreciates the sacrifices of all veterans, and hopes you will take advantage of this opportunity. Simply show your Military ID card, or driver's license that shows your military status at the gate next Friday, and you and a guest will be omitted free of charge. See you next week, and thank you for your service!

Parents and Guardians: We need your help. As you all know breakfast and lunch is free for everyone for the second year in a row. So with that being the case, very few of you have completed the free and reduced meal applications. I do understand why, but we need you to complete these by the end of October. Our TITLE 1 funding is dependent upon it. as of right now we have a Free and Reduced rate of 25%. Our usual number is 55%to 60% who qualify for free and reduced meals. Tomorrow night when you attend parent/teacher conferences you can pick up these applications form your child's teacher or the front office including after tomorrow. The verification process is confidential and you check off the income level that you fit under. Only one person in our district sees these numbers. NO ONE ELSE in the school is privy to this information including myself. The free and reduced rate needs to be raised. Its that simple. our TITLE 1 reading department is dependent on those federal dollars. Please complete these forms so we can get our percentage back to normal. Thank you, Kevin Sims Minco Public Schools Superintendent

With the potential of tornadic thunderstorms, we will open the elementary cafeteria and the high school safe rooms located at the north end of the main hallway. Stay weather aware!! Mr. Sims
The Lady Bulldogs will be playing in the 2021 Fast-Pitch State Championship Tournament beginning Thursday Oct. 7 at 6:30 pm on Energy Field at Hall of Fame Stadium in OKC. Tickets may be purchased online only at
https://gofan.co/app/school/OSSAA
. No tickets will be sold at the gate. We hope to see you there supporting our Lady Bulldogs on their way to TAKE STATE!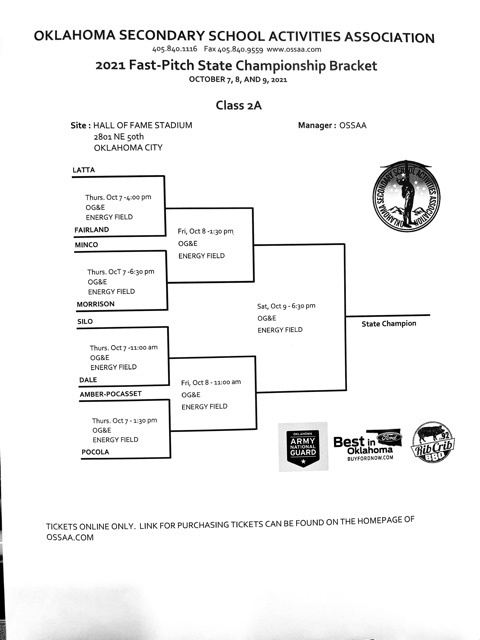 Good Afternoon!! You can catch all of Minco Softball today on
www.mincobulldogs.tv
. Our football game vs Cordell will be broadcast on Oksports.tv at 7:00PM

Good evening!! I wanted to give you an rundown of activities for Friday and Saturday. Friday our girls will play at 12:00 noon at the Piedmont Softball Field. If they win, they will play at 6:00PM Friday. All of Friday's games will be broadcast on
www.mincobulldogs.tv
. We will allow for you to checkout your children and take them to the softball game. With all the activities, we will not be able to provide a pep bus on Friday. Saturday morning at 10:00 the Regional will conclude in Piedmont. I will be driving a pep bus at 9:00AM and leaving from the high school. Students that want to attend Sat must purchase a ticket for Saturday. You can visit
www.ossaa.com
or
www.minco.k12.ok.us
to find the link to purchase the tickets. We are working on getting the Saturday games streamed as well. The weather certainly caused an issue for our playoffs, but we are looking forward to continuing our run to the state tournament. This is a great time to be a Minco Bulldog!! Please email me at
ksims@minco.k12.ok.us
or call at 405-352-4867 if you have any questions. Thank you, Kevin Sims Minco Superintendent